This Father's Day, take some inspiration from our 15 Fun Things To Do With Dad and make some lasting memories. Finding a unique way to celebrate the top man in your life can be tricky, so we've put together some great ideas that can be enjoyed by all ages, from a fishing trip, to taking him down the pub for a pint, and quite a lot in between!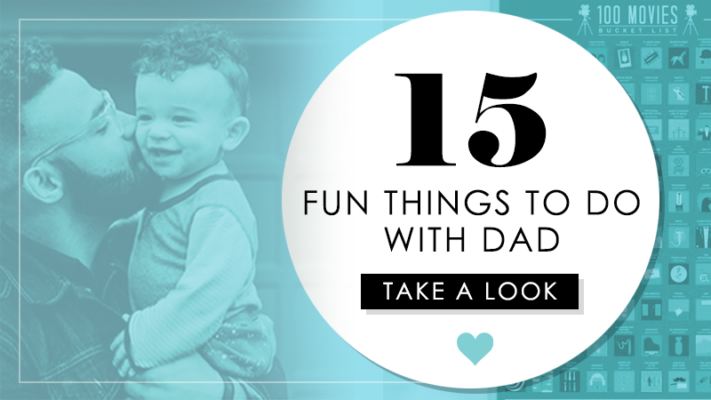 Read on to find out how to make this Father's Day a brilliant day for Dad - one that will stand out and get remembered. We have included some great themed gifts, and we are sure there will be a Father's Day Idea in here to suit most Dads!


1 Go For a Round of Golf
Give Dad a new experience, or let him share his decades of knowledge and skill - whether a beginner golfer or a seasoned pro, spending a few hours on the green with family members will be a great experience all round. Book some lessons, or just go for a try out. Or if he's already a well known face at the club, ask him to show you what it's all about, spending a few hours at the driving range together. Presenting him with a personalised golf themed gift at the end of the day will make a perfect finish to a perfect day - why not choose our Personalised Golf Towel or his own Engraved Glass Beer Glass Tankard?
2 Arrange a Family Fishing Trip
Does Dad know all the best places to fish? Does he have a favourite spot, or somewhere he has always wanted to try? If he has regaled you with tales of the one that got away, likely he has also told you of the perfect spot to hang out for a day in the bivvy. Why not organise an early morning outing for the adults, and prepare a picnic to be joined by the rest of the family for elevensies? Introduce the family to his love of fishing, or at least his love of being outdoors. It may not be a quiet moment of reflection that fishing can often bring - but it will be a celebration of Dad and bringing everyone together for a few hours. An on theme souvenir of the day is a great way to wind up the expedition - take a look at our Personalised Fishing Gear Wooden Box

3 When Those Boots Are Made For Walking
What better way to enjoy the moment than pulling on your boots and getting outdoors for an adventure. Take a stroll around your local area, plot a new adventure, or head further a field and tread a famous trail to cross off his bucket list. Fresh air and adventure is a great way to create a united front - just make sure you've packed all the snacks! A great reminder of the day our Personalised Hiking Boot Bag will be a great reminder of a great day - and come in useful for many more hikes to come!

4 If 2 wheels feel better than 2 legs
Look into organising a fun trip out where he can feel the wind on his face, and get some great outdoor time with the family. If transporting all the bikes and clobber can feel a bit daunting - look into bike hire, which is available at many favourite nature spots. Look at using trailers or baby seats for the little ones who aren't quite ready to follow in Dad's bike tracks. Our Personalised Bicycle Puncture Repair Kit is a lovely little souvenir to remind him of a fun day, and hopefully keep him rolling if he ever comes unstuck!


5 Create a DIY Masterpiece
From building a shed to putting up a shelf, if your Dad is a DIY master, taking a few hours to spend creating something together is a sure way to a fulfilling day. If the kids are still little, a bird house to be painted by the tinies could be the perfect project. Our Personalised Wooden Hammer will be a lasting memory of the day spent together - and hopefully the masterpiece will last a few years too!


6 Take a Trip Down Memory Lane
What if a Grandad has missed out on some moments over the last year, or a new Dad needs a reminder to take stock and realise what a journey he's been on - putting together a box of memories and photos is a dedicated gift to show just how much this Dad means to you. Take a look at our Truly Amazing Dad Oak Photo Keepsake Box ready to be filled with treasures and reminders.

7 Puzzle Away The Hours
Is Dad a puzzle master or a jigsaw genius? Have a puzzle off, or complete a trickier one together. An lovely easy way to spend an afternoon, Even better if the subject turns out to be someone you know! Our Personalised Photo Upload Jigsaw makes a sentimental surprise for any puzzle fan!

8 Add A Splash of Colour
If Dad's idea of a good time is a little more sedate, setting some time aside to create a beautiful picture is just the thing. A past time for Grandad to connect with his granddaughter, or a creative idea to come back to time and again. Choosing colours together and having a natter make the most memorable moments. We have a stunning Adult Colouring Book that will stand out as a beautiful keepsake as time spent together with a special Dad.


9 Movie Night In
Bring the movies to him, and create the perfect movie night in. Pick up his favourite snacks, be sure to have in his top tipple to hand, and set his most loved film to play! If his choice is an obscure one - it might take a little searching to find it on dvd. But there's a chance that with all his other favourites supplied, he might be just as happy to relax and watch the latest release! Check out our 100 Movies Poster to scratch off as you get through the list! Be sure to prepare his corner, and just like in the real movies, our Armchair Caddy will keep everything within reach for the perfect at home movie experience. Whatever makes him happy - after all, it is his day!



10 Is Dad the King of The Grill?
As the days get warmer, organising a get together with the family is a lovely way to spend a few hours together, outdoors to let Dad be the focus of attention, and show of his culinary skills - with out he added stress of organising and shopping for the pleasure! He will be chuffed to bits with our Personalised BBQ Set and proud to be put centre stage with such a great gift and a special day.


11 Become Master Chef
Is Dad the next Rick Stein? Or does he think he could out cook Jamie Oliver? Give him the attention and chance to prove himself in the kitchen, roll up your sleeves, and get cooking for a few hours. Maybe organise a Master Chef type tasting - but make sure all guests are prepped to only give the main man well deserved praise! With a little preparation including inviting his nearest and dearest for the resulting meal, you will have created his perfect day with his perfect people! And all attention and praise will be on Dad! You can make sure Dad is correctly dressed for the occasion with our Personalised Embroidered King of The Kitchen Apron, which will bring back memories of the great day for many meals to come.


12 Homemade Pizza
How you like your pizza is a highly personal thing! Some people swear by an egg at the centre, others think pineapple is perfectly acceptable addition - however you like yours, creating your favourite pizza from scratch can be a fun way to spend a few hours, and a great way to create a personalised feast! Our Gentlemen's Hardware Pizza Cutter & Serving Board set will help cut and serve his favourite pizza in stylish ease.



13 Cocktail Hour
So he thinks he's the next Tom Cruise - have a fun few hours trying your hand at some mocktails and cocktails, learning what flavours work with what! Discover some new flavours, tips and tricks, and re-discover some old favourites. Check out our Christmas Cocktails for a few ideas - or search the internet to discover a few non-alcholic versions! Will yours be more an Angel's Dream, or a Zobie Punch? Served up in our Personalised Father's Day Whiskey Glass will add an extra special moment to this memory!


14 Whiskey Tasting
Recreate a little highland fun of your own - if your Dad is a fan of a wee dram, or thinks he knows his bourbon from his scotch - why not put it to the test!? Set yourselves out a tasting table ready with a pen and paper each, consider surprising him with our Personalised Dartington Crystal Whisky Connoisseur Gift Set, then see if he can name his favourite tipple, or spot the most expensive. He may be in for a big surprise! Or he might just put you all to shame!


15 Star Spotting
Does your Dad love all things space and planets? Does he know their names and sizes, and can point out the different constellations? In that case - we're sure this one will be a great surprise to him - if you Name a Star after him! Probably not a star he has ever spotted before! Make a fun evening naming the stars, finding the constellations, and spotting his very own namesake.





If you're STILL stuck for the perfect idea - check out our 100 Things To Do With Dad scratch poster - you will never be bored again!