Secure Shopping
The Gift Experience want you to feel safe while shopping on the site and below are all the steps we have taken to ensure you have 100% secure shopping.
The Gift Experience are accredited by The SafeBuy Assurance Scheme .
The SafeBuy Assurance Scheme is for web-based retailers and is operated by Software Research Ltd.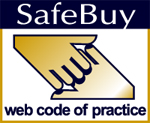 The Scheme, amongst other things, requires web retailers to:
Adhere to the terms of the Sale of Goods Act, the EU Distance Selling Regulations and the EU Directive on Privacy and Electronic Communications;
Conform to the Data Protection Act 1998;
Provide security for the processing of credit card transactions;
Include physical location and contact details for themselves on their website;
Display the total price consumers must pay for goods including delivery costs and provide a clear explanation of the delivery procedures;
Advise the consumer if 'cookies' are required for the processing of data;
Not use 'spam' for marketing purposes;
Avoid exploitation of children.

Comodo
Comodo offers SSL Certificates and end user security software so it's safe to conduct business online. They secure websites and offer end user security software.

99.3 percent of all browsers recognize Comodo and its Root Certificates (by the way, Comodo owns 12 of its own root certificates that are found on all web browsers)
They are the second largest certificate authority in the world - Comodo ensures that millions of transactions are safely performed every day
Secure Sockets Layer (SSL) technology protects your website and makes it easy for your website visitors to trust you in three essential ways:
An SSL Certificate enables encryption of sensitive information during on-line transactions.
Each SSL Certificate contains unique, authenticated information about the certificate owner.
A Certificate Authority verifies the identity of the certificate owner when it is issued.
You need SSL if...
you have an online store or accept online orders and credit cards
you offer a log-in or sign-in on your site
you process sensitive data such as address, birth date, licence or ID numbers
you need to comply with privacy and security requirements
you value privacy and expect others to trust you.
How Encryption Works
Imagine sending a letter through the post in a transparent envelope. Anyone with access to it can see the data. If it looks valuable, they might take it or change it. An SSL Certificate establishes a private communication channel enabling encryption of the data during transmission. Encryption scrambles the data, essentially creating an envelope for message privacy.
Each SSL Certificate consists of a public key and a private key. The public key is used to encrypt information and the private key is used to decipher it. When a Web browser points to a secured domain, a Secure Sockets Layer handshake authenticates the server (website) and the client (Web browser). An encryption method is established with a unique session key and secure transmission can begin. True 256-bit SSL Certificates enable every site visitor to experience the strongest SSL encryption available to them.
How Authentication Works
Imagine receiving an envelope with no return address and a form asking for your bank account number. Every SSL Certificate is created for a particular server in a specific domain for a verified business entity. When the SSL handshake occurs, the browser requires authentication information from the server. By clicking the closed padlock in the browser window or certain SSL trust marks, the website visitor sees the authenticated organisation name. In high-security browsers, the authenticated organisation name is prominently displayed and the address bar turns green when an Extended Validation SSL Certificate is detected. If the information does not match or the certificate has expired, the browser displays an error message or warning.
Why Authentication Matters
Like a passport or a driving licence, an SSL Certificate is issued by a trusted source, known as the Certificate Authority (CA). Many CAs simply verify the domain name and issue the certificate. Our chosen supplier, Comodo verifies the existence of your business, the ownership of your domain name and your authority to apply for the certificate, a higher standard of authentication.
Privacy & Security Statement
Here at The Gift Experience we work hard to ensure that you have an enjoyable shopping experience with us.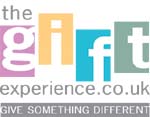 The Gift Experience will not pass any customer details to any third party. We are committed to protecting your privacy.
We will only use the information that we collect about you lawfully (in accordance with the Data Protection Act 1998). We collect information about you for 2 reasons: firstly, to process your order and secondly, to provide you with the best possible service. We will not e-mail you in the future unless you have given us your consent. We will give you the opportunity to refuse any marketing email from us.
The type of information we will collect about you includes: your name, address, phone number, email address and credit/debit card details. Credit card details are not held on our database. We will never collect sensitive information about you without your explicit consent.
The information we hold will be accurate and up to date. You can check the information that we hold about you by emailing us. If you find any inaccuracies we will delete or correct it promptly. The personal information which we hold will be held securely in accordance with our internal security policy.
The Gift Experience accepts payments by credit/debit cards. We have a fully sophisticated on-line processing system for taking credit card payments through Worldpay...one of the world's largest credit card processing companies.
Our secure-server software encrypts all your credit or debit card numbers. The encryption process takes the characters you enter and converts them into bits of code that are then securely transmitted over the Internet. When you place orders we offer the use of a secure server.
The secure server software (SSL) encrypts all information you input before it is sent to us. Furthermore, as required by the UK Data Protection Legislation, we follow strict security procedures in the storage and disclosure of information which you have given us, to prevent unauthorised access.
We are sure that you will agree, that it is worth the extra effort by us to make this site as safe and secure as possible for you to shop with complete peace of mind.
The Gift Experience believes that electronic privacy is crucial to the ongoing success of the Internet as a service, commercial, and entertainment medium. Our policy is to keep the personal information we receive from our sites completely confidential, and used solely for internal purposes. We will not share your personal information with any other parties.
The Gift Experience will not willfully disclose any individually identifiable information about its users to any third party.
Following the Privacy & Electronic Communications Act of Dec 03: We do not send random marketing emails to personal email addresses (spam).
The Gift Experience will, on a few occasions email you to update you on our products. By ordering or enquiring about our products you will automatically subscribe. You can unsubscibe by notifying us by email.
We use cookies to identify you when you enter our site as well as to maintain your shopping basket during an online session. In order to use our site it is essential that you have cookies activated in your web browser.