While there are many important birthday milestones in a person's life, reaching 60 is one that is frequently celebrated as a key life stage. Finding the ideal gift to make their 60th birthday extra special means it will be remembered for many years into the future.
Whether celebrating the 60th birthday of a friend or family member, make it really stand out by giving them a gift that has been made just for them. We have a range of personalised 60th birthday gifts that will suit any soon to be 60-year-old man or woman.
Give them a gift that compliments their personality or denotes their favourite hobby. From fun to sentimental, elegant to lighthearted, we have 60th birthday gifts and items that will appeal to any taste and make your birthday celebration even more meaningful.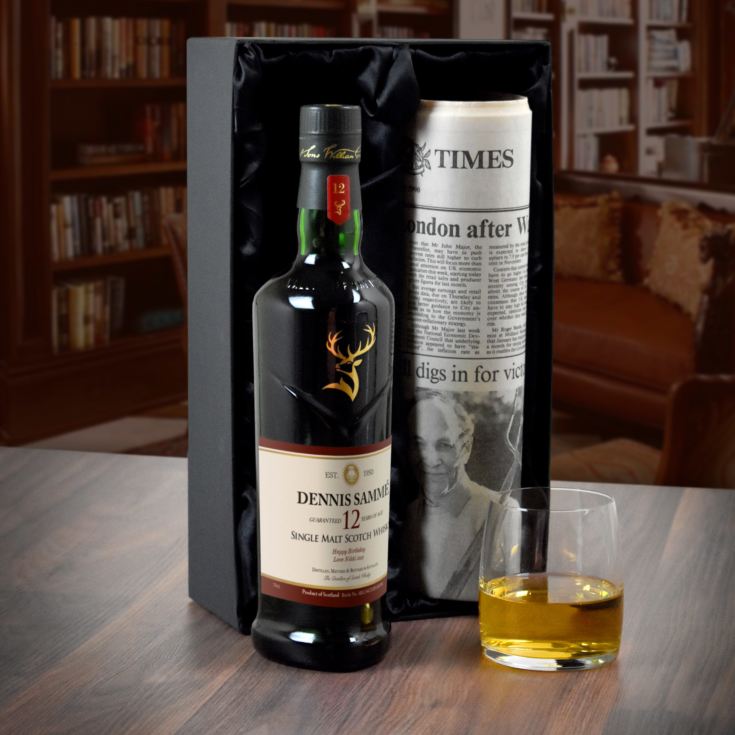 Nothing makes a birthday more sentimental than commemorating the date with a thoughtful gift. Make their 60th birthday a day to remember with this Luxury Bottle of Glenfiddich 12-year-old Whisky. The aged single malt whisky comes with a national newspaper from your chosen date containing all the news and events from the birthday celebrant's memorable day. As a keepsake, the newspaper can be kept as a reminder of the birthday long after the last sip of whisky has been taken. To make this a truly unique present your special birthday message and recipient's name can be printed on the bottle's label. The newspaper and whisky bottle are displayed in a beautiful black silk lined presentation box to add the finishing touch to this thoughtful 60th birthday gift.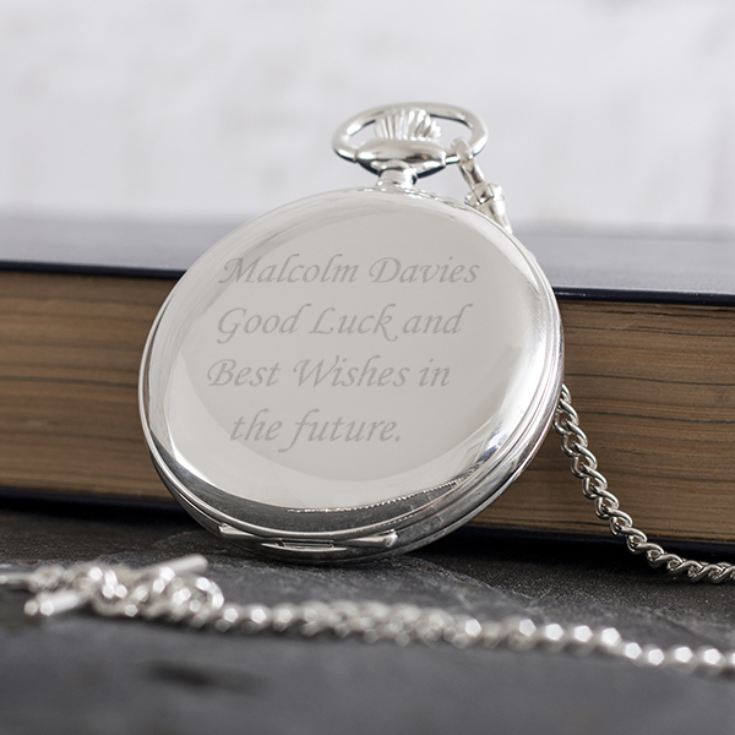 You can't turn back time but you can give it as an extra special personalised 60th birthday gift. If your birthday man appreciates elegance and style then he will love this Sterling Silver Pocket Watch, which can be engraved with a custom 60th birthday greeting or his initials, to make an original and thoughtful gift. As a fully working timepiece, this classic silver watch can be used for many years to come and will serve as a warm reminder of his special day. It will make the perfect gift for Dad, Grandad, Husband or Brother that is a bit more unique than the typical 60th birthday gift. The pocket watch comes displayed in its own gift box to keep it safely protected and stored.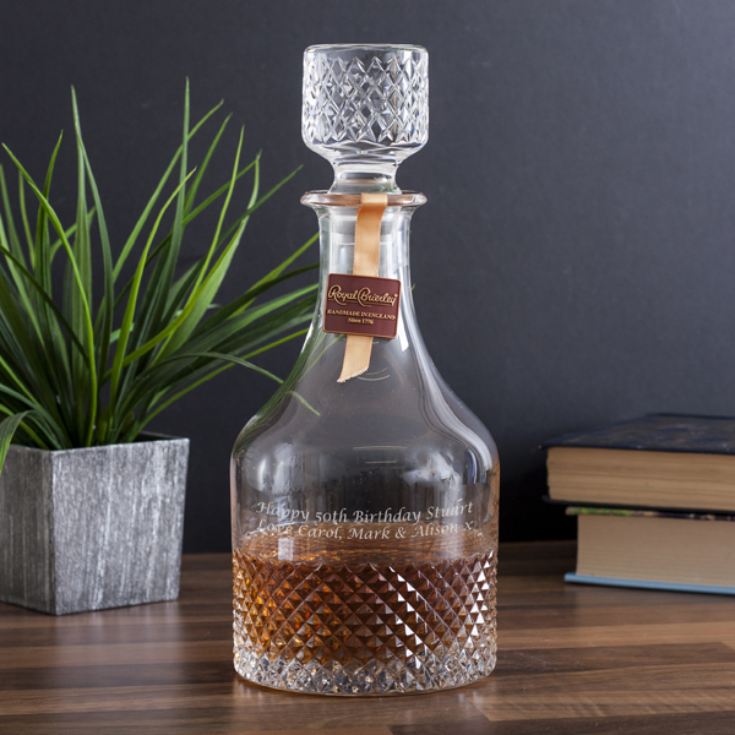 For a stunning 60th birthday gift that can be kept and used for years ahead, this Royal Brierley Crystal Cut Decanter will fit perfectly in any home. Featuring hand-cut crystal this decanter is made in England and the Royal Brierley brand is the proud recipient of no less than 2 Royal Warrants. Perfect for storing wines or spirits, the large crystal-cut stopper creates an airtight seal and keeps drinks fresh. Make this unique handmade 60th birthday gift even more special by personalising the decanter with your own birthday message. Your greeting can be engraved above the cut glass pattern to convey your special 60th birthday wishes. The sparkling crystal decanter comes presented in a Royal Brierley gift box.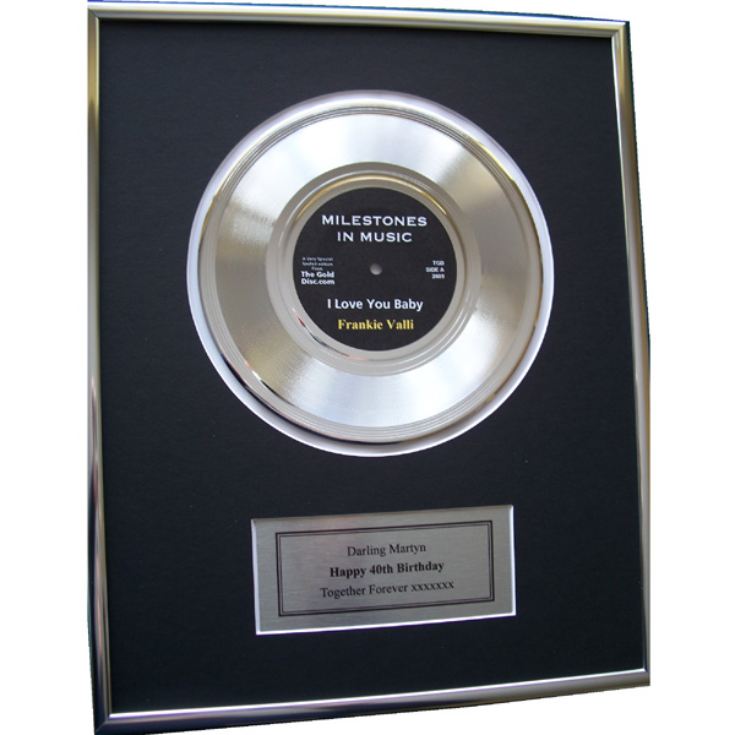 If you are celebrating the 60th birthday of a man or woman that is a music lover then this Personalised Gold Disc will make it a day to remember. The gold disc is available in 7" and 12" inch sizes and this original birthday disc can be made even more unique by featuring the song from the recipient's date of birth, or a song that is special to them. Design the frame and matt to suit your birthday man or woman's taste or decor with a choice of frame metals and interior matt colours. To finish off the ensemble an engravable plaque is included for you to add your 60th birthday message. The entire piece can be displayed in a home or office and will be a lasting souvenir of the special day.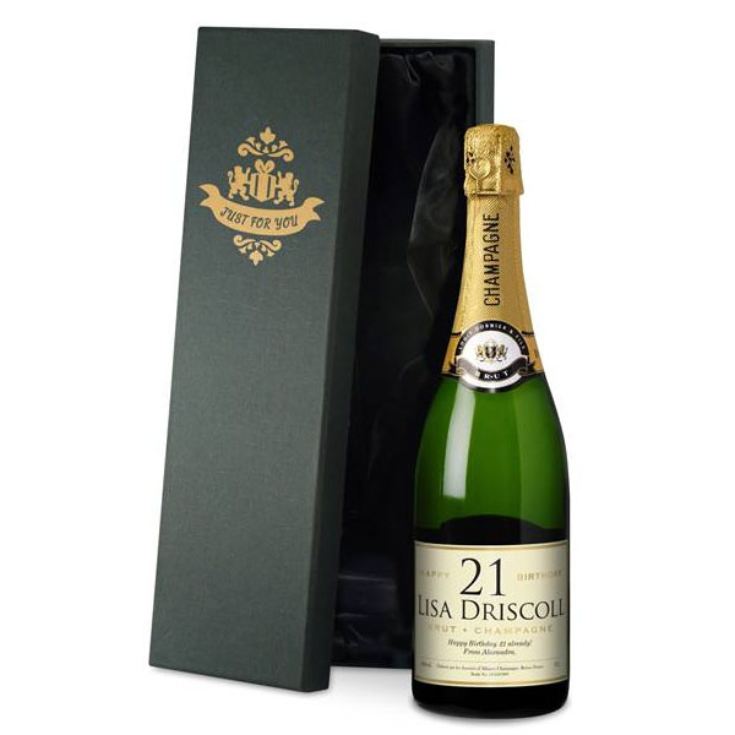 Looking for the perfect 60th birthday gift for Mum, or to celebrate the day with a friend or relative? There is no better way to mark the occasion than by popping a bottle of quality bubbly. This Personalised Bottle of Champagne can be made into a meaningful gift by printing the birthday man or woman's name on the label and adding your own special 60th birthday message. After the champagne has been finished, the bottle can be kept as an ornament to provide a lasting memory of the 60th birthday celebrations. A choice of 3 gift boxes is available so you can present the champagne, perfectly packaged, to your intended recipient.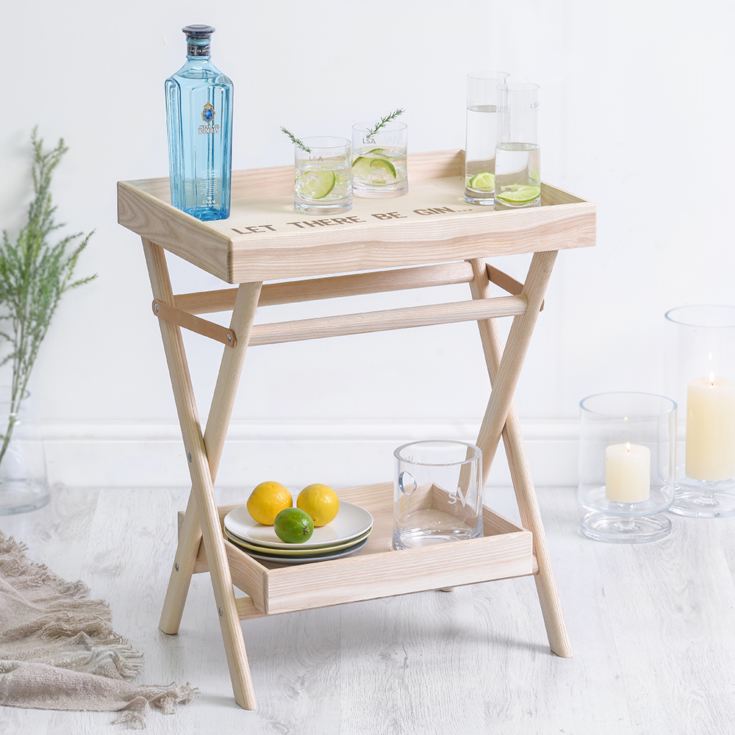 For the person that has absolutely everything, give them a 60th birthday gift that is completely different with this LSA Personalised Gin Grand Serving Set. Will look great in any home or conservatory and comes with everything needed for a portable gin bar. The folding ash wood stand is finished with a removable tray and natural leather straps. Can be used for serving drinks and storing bottles. The set comes complete with a selection of glasses, porcelain garnish bowls and a mouthblown ice bucket. The ash serving try can be inscribed with a 60th birthday message to make this a truly unique and special gift that will look great in any room.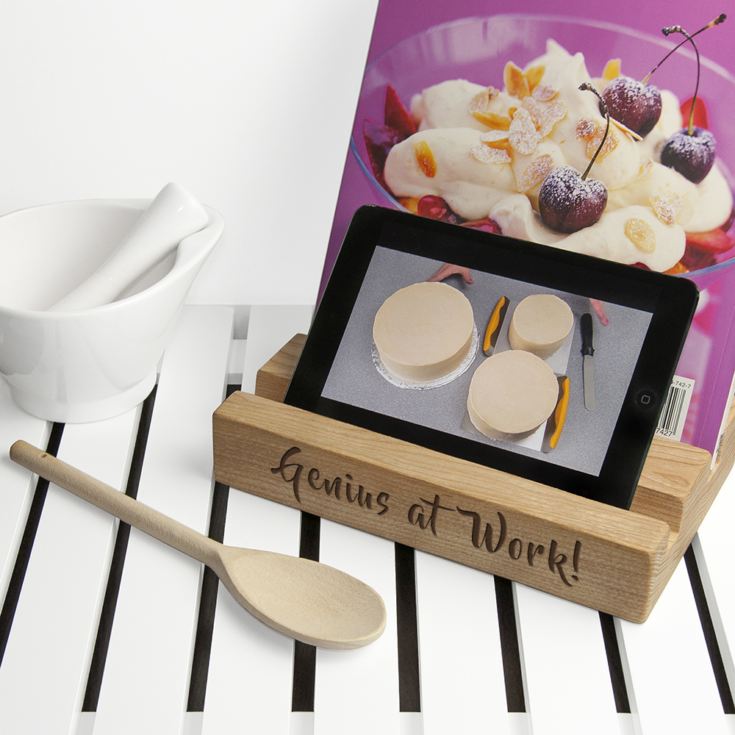 If your family member or friend happens to be an aspiring chef, help them celebrate their 60th birthday with this Kitchen Recipe Book or Tablet Holder. It will make an original and unique gift that they can use every day. This wood stand will give them a helping hand in the kitchen and is made from Welsh ash, windfall only wood, for an eco-friendly kitchen accessory. Perfect for holding a book or tablet to follow along with a recipe, and finished with food-safe beeswax. A personalised message of up to 30 characters can be added to the stand creating an original and unusual 60th birthday present that can be used for practical purposes. Makes a great 60th birthday present for Mum, Auntie, or anyone else that likes to cook.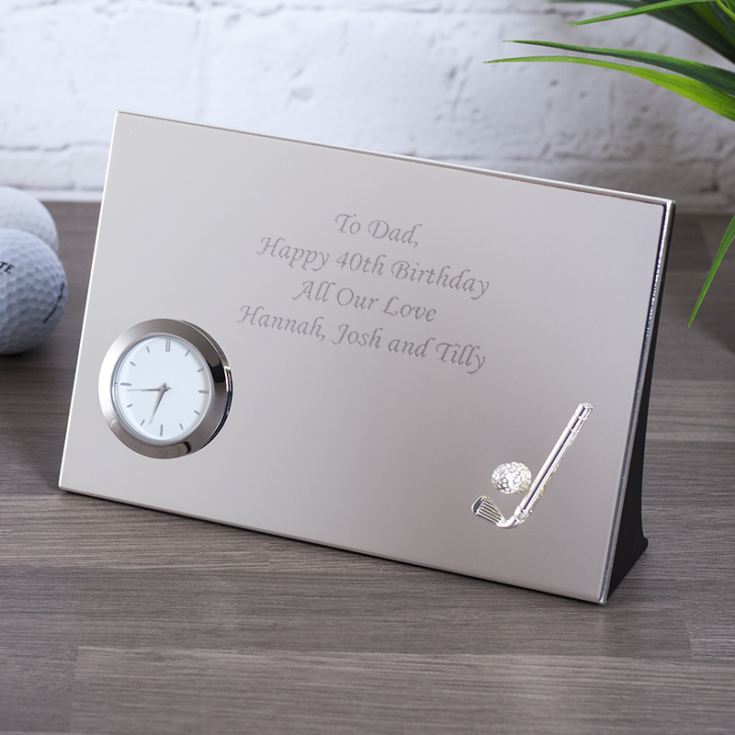 Give a memorable and useful 60th birthday gift to the golfer in your family. Fans of the sport will love this Personalised Luxury Golf Desk Clock. Finished in silver, this analogue golfing clock will look perfect on any desk or mantelpiece. A raised motif of a golfing club and ball adorns the front of the clock and there is a space to engrave a 60th birthday message on the front. For any keen golfer, this will make a thoughtful and lasting birthday gift that can be displayed for many years. The silver golf clock comes in a beautiful blue silk lined presentation box to complete the gift.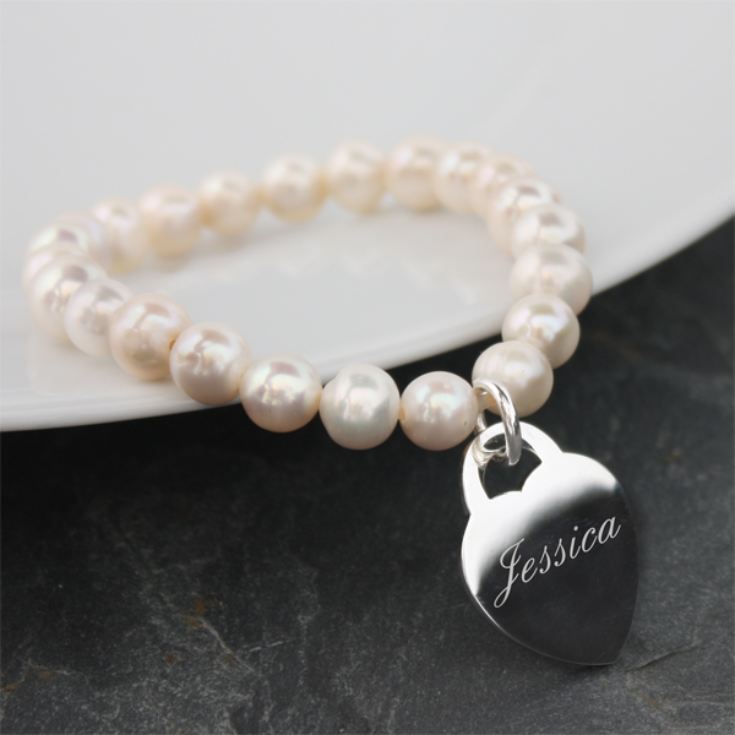 Ladies that love their jewellery will be delighted to receive this classic Freshwater Pearl Bracelet for their 60th birthday. This bracelet features a string of pearls with their signature lustre and would be the perfect addition to any birthday outfit. The bracelet is finished with an engravable silver heart for you to add the recipient's name. To make the gift even more special it comes in a chrome gift box which may also be engraved with any message of your choosing to commemorate the 60th birthday event.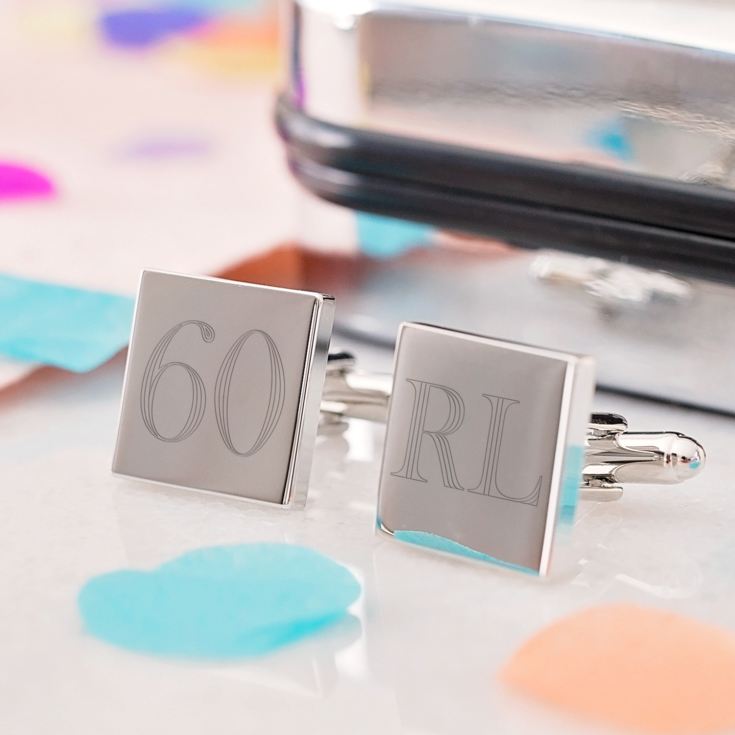 If you are seeking a classic gift with a fun twist then look no further than these 60th Birthday Cufflinks. Add a touch of warmth and humour to the birthday proceedings and give these cufflinks to your birthday man. Each cufflink is engravable; one with a '60' to mark the birthday in question, and the other with your choice of initials. The silver finish will match perfectly with any shirt and the cufflinks come in a chrome keepsake box which may also be engraved with your special 60th birthday message. The cufflinks can be worn or kept in the box on display as a sentimental reminder of the special day.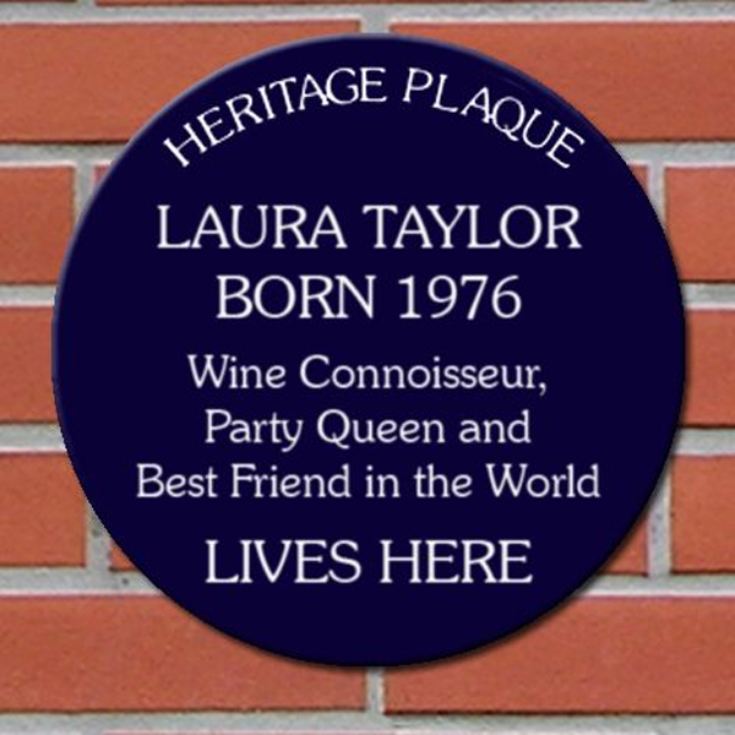 Turn your friend or relatives house into a historic building for their 60th birthday with this Spoof Heritage Plaque reminiscent of those used to mark churches or stately homes. Give them a laugh by having a plaque customised to commemorate their 60 birthday and feature their attributes like 'Top Card Player', 'Best Pool Player, or 'Gin Drinker' for an amusing gift. Made from strong acrylic to be rust-resistant, the plaque can be displayed next to any front door or on a garden wall. If your relative or friend fancies themselves as a local hero or a bit of a celebrity, then this will be the ideal gift for them.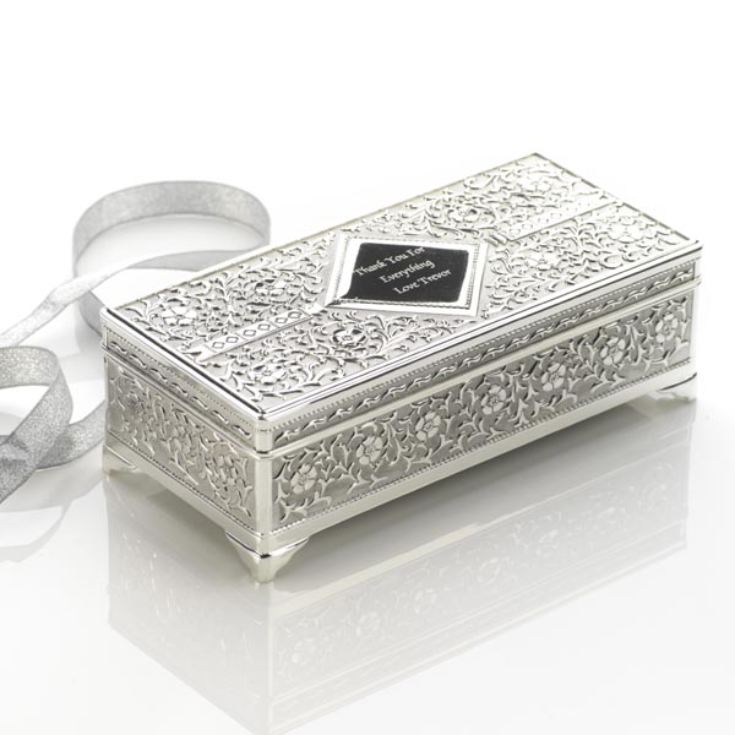 For a delightful keepsake that will last for many years into the future, give this Antique Silver Jewellery Box. Finished in plated silver and set with an ornate raised rose pattern, this will make the perfect present for any lady celebrating her 60th birthday. The box's interior has a jewellery tray and ring section for storing precious items. On the box's lid, there is a shining silver diamond inset that can be engraved with your 60th birthday message to make the box even more personal. This jewellery box will make a meaningful and enduring gift that can be used daily and displayed in any number of places as a keepsake.

Whatever you choose to send as a 60th birthday gift, keep it unique and personal. Featuring your own message or adding the recipient's name can make it feel extra special and in keeping with the important day. Show them that you care with a present that is as original and unique as they are.