Your bridesmaids will be women you love, and love you, even if wedding planning has made you all question why! So, it's important to remember their happiness on your big day as you might be surprised just how much you can change your bridesmaids' (possible) wedding day dread to delight with these five suggestions.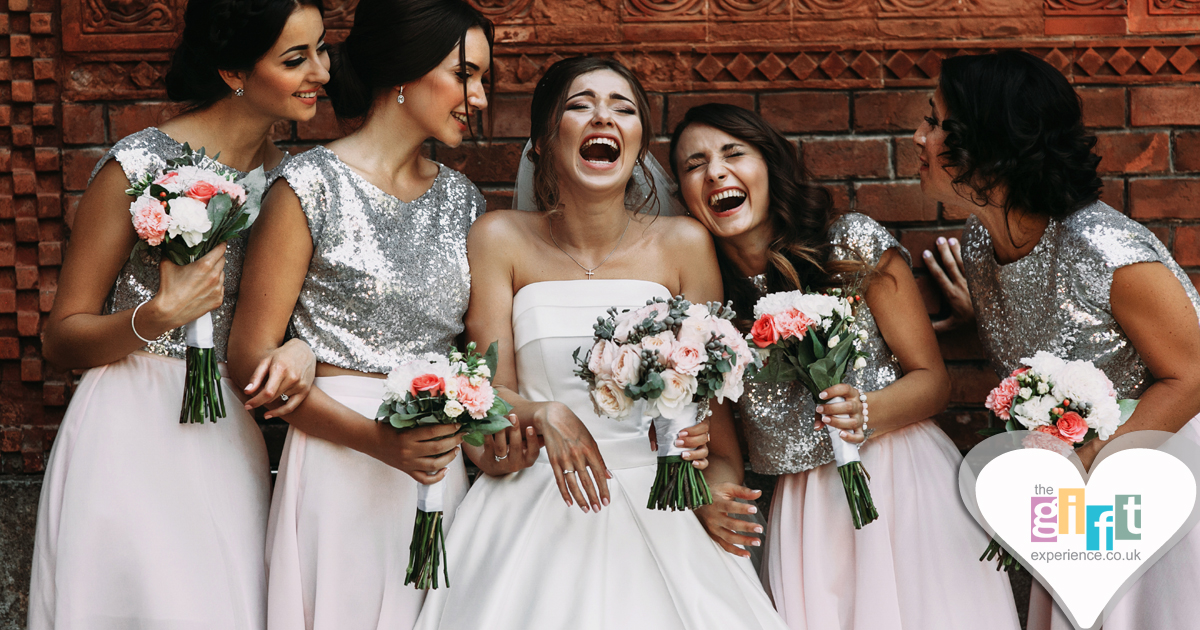 1. Ask your bridesmaid what their budget is
Now that you're pulling together a wedding you realise the importance of budgeting – knowing what money you can afford to spend and understanding that sometimes you just have to compromise.
When it comes to your bridesmaids it might be worth taking the time to privately chat with them one-on-one, either in person, through a phone call or even a text, just to ask each what she can realistically afford to spend on the wedding attire.
Being a bridesmaid often isn't cheap especially when you add up the dress, hair, shoes, hen party, travel expenses and hotel costs. Now, you might be offering to pay for some of the bridesmaid's costs yourselves, however, if you're not, ask your bridesmaids what they can afford way before you start looking at anything you're not splashing out for.
For example your bridesmaid will feel terrible if she's the only one who can't afford that dream bridesmaid dress you want them all in. You'll either have to change the dress, she'll have to suck-it-up and pay more than she can afford, or she'll need to drop out... just cut out the stress (for both of you) and make sure you're fully aware of your bridesmaids' financial situations first.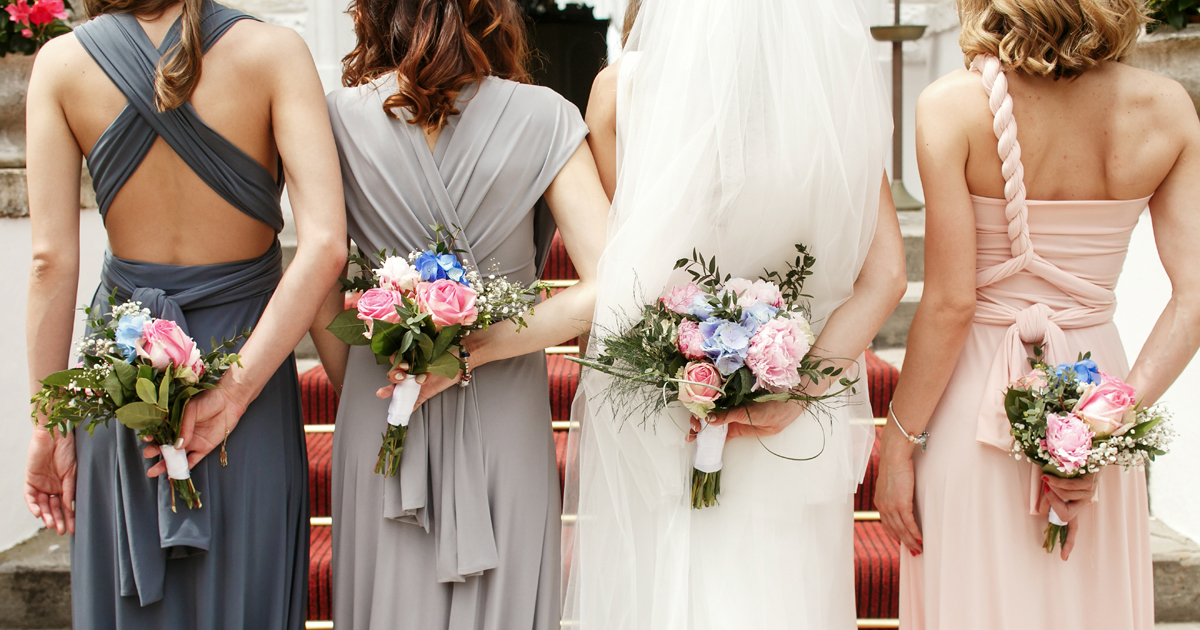 2. Hear your bridesmaids out with their dresses
We say this tentatively as every woman knows someone who is too opinionated for their own good. However, we're also aware that no woman is 100% happy with her own body and it might be worth asking privately if there are any body-areas your bridesmaids are uncomfortable with before you look at dresses.
It will be near-impossible to please everyone. We repeat, it will be near-impossible to keep every bridesmaid happy when it comes to their dress.
However, if you know the areas that will cause the most discomfort straight away you can pick dresses that are flattering to your bridesmaids' body insecurities, or at least be aware you may have an issue on your hands when choosing a skin-tight dress after one bridesmaids has said she's conscious of her tummy.
If you're a more relaxed bride you could print colour swatches, create simple guidelines and then let your bridesmaids pick their own non-matching dresses (keeping the receipts just in case) to end up with a wonderful miss-matched bridal party where everyone is happy.
A few of us in the office, are a little too 'particular' to let this be the case but we'd potentially be open to the idea of picking one dress style and then letting the bridesmaids pick from colour swatches that goes with the wedding theme.
This will create a less-matching look, but could keep more people happy as your bridesmaids might think a dress style is more flattering in a lighter/darker shade and then be more comfortable on your wedding day.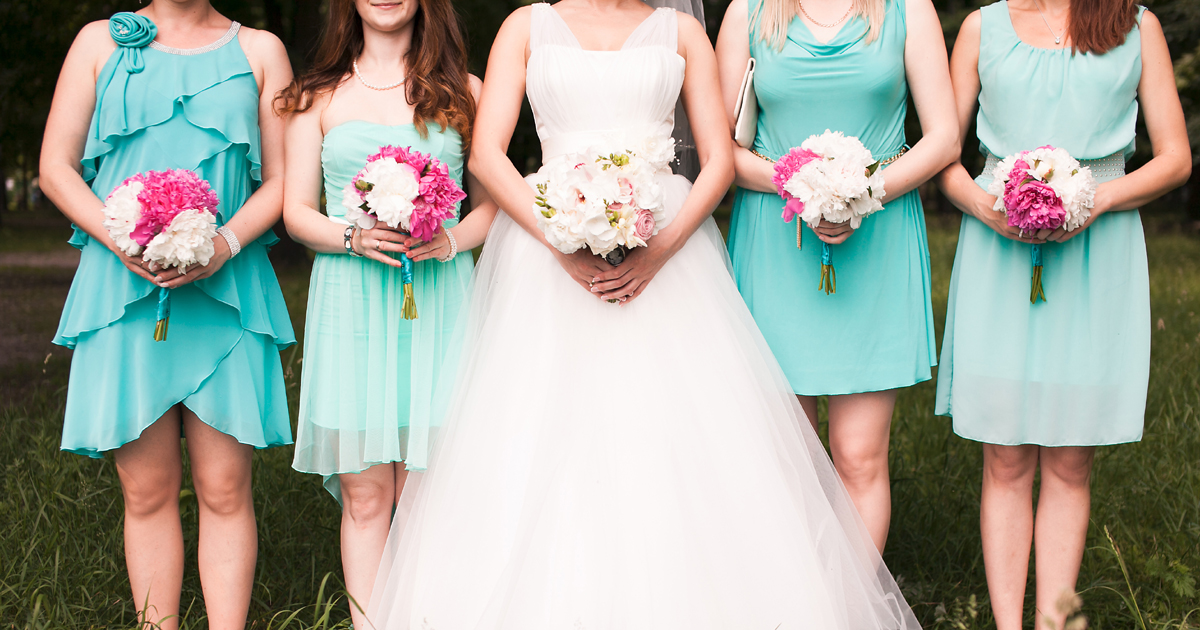 3. Consider your bridesmaids' strengths (and weaknesses)
Your bridesmaids are all different women with different strengths and weaknesses. If you know one of your bridesmaids just is not creatively talented (and she willingly admits it) do not ask for her help with the DIY part of your wedding as you'll both get frustrated.
If she does not realise that she is bad at 'artsy' things then ask her to do a different, useful job, such as writing envelopes, picking up the dresses or collecting the flowers.
There will be a lot of things that you need help with but try to delegate these tasks to the right bridesmaid so that you don't get stressed with your friends and loved ones when they are doing their best to help you.
You may think she's incompetent but she will think you're a Bridezilla and relationships will be strained when it comes to the big day – not what you want.
If you consider what your bridesmaids strengths are then you can ask them to help out where they will shine. This will be great for both of you – she'll be happy that she could help and you'll appreciate what a great job she did.


4. Don't forget to eat!
With the excitement/stress of getting ready for the wedding, food can often be forgotten, and the last thing you want is a group of hangry (hungry + angry) women all trying to get ready in the same space.
Make sure that you and your bridesmaids get a good breakfast and possibly some snacks in before the wedding to ensure that tempers don't flare and people don't snap at each other.
You will already be a little stressed on your wedding day and there's nothing your bridesmaids want less than you being snappy because you're hungry and vice versa! It's as important to feed yourself as it is to feed them, especially if you're planning on a couple of drinks to settle your nerves.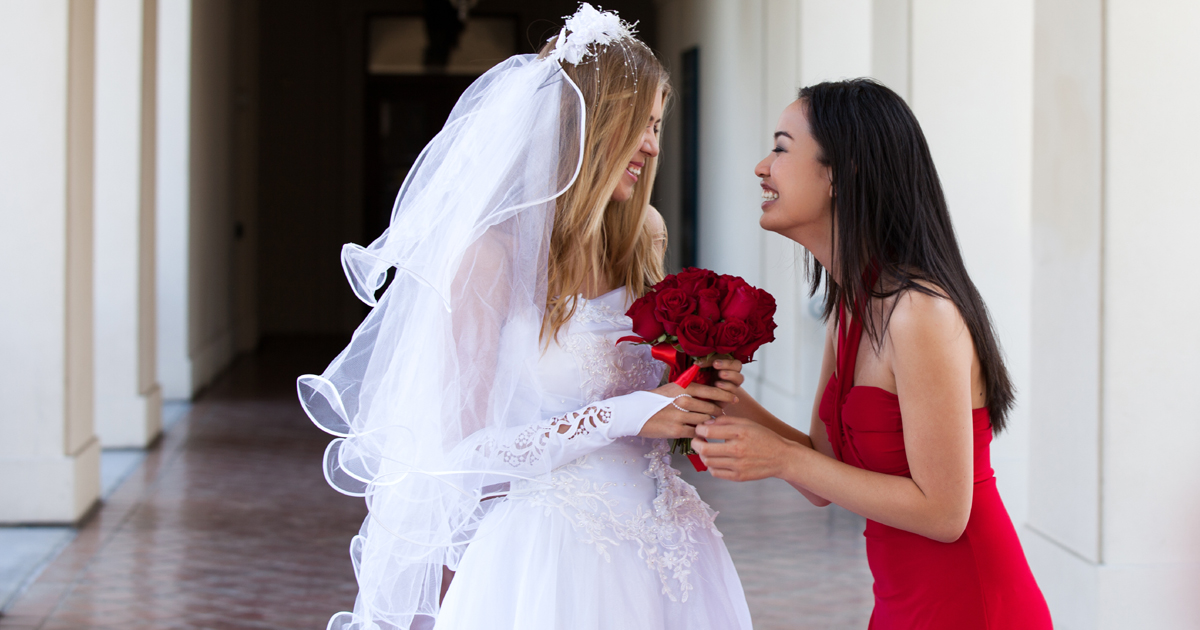 5. Say thank you
Your bridesmaids will have put in a lot of time and effort to help you create your dream wedding so you can't underestimate the importance of saying thank you to them.
A popular way of doing this is to give bridesmaids gifts to the ladies that have helped you with your big day. This is completely up to you, obviously as a gift company we love the idea of giving them a gift because we feel that it creates a lasting memento of a special occasion.
However, whether you give gifts or not, one of the best things you can do to make your bridesmaids' day is to take them aside, one at a time and really say thank you to them. By doing it individually it's not throw-away, it's not because you 'should', but it instead shows each bridesmaid that you really appreciate what she has done.
Ps. try to do this while sober – if this isn't manageable, at least do it when she's tipsy too!
If you do decide that you'd like to give your bridesmaids gifts then we'd recommend checking out our blog 'The best time to give your bridesmaids their gifts' for help with timing. Or, if you already know when you'd want to give the gifts, then head straight to our Bridesmaids Gifts section for a gift that will really wow them.
Save
Save
Save
Save
Save
Save
Save
Save
Save
Save
Save