Now the stress of studies is finally out of the way; it's time for your son, daughter, or relative to celebrate their graduation. Receiving their diploma is a right of passage that is the result of years of hard work, and this special occasion should be one that is celebrated. Let your loved ones know how proud you are of them by giving a gift that marks the day, and that can be kept as a reminder of their special graduation celebration. Many of these items can be cherished and displayed, creating a memento to mark the big event.
1. For the graduate with so many memories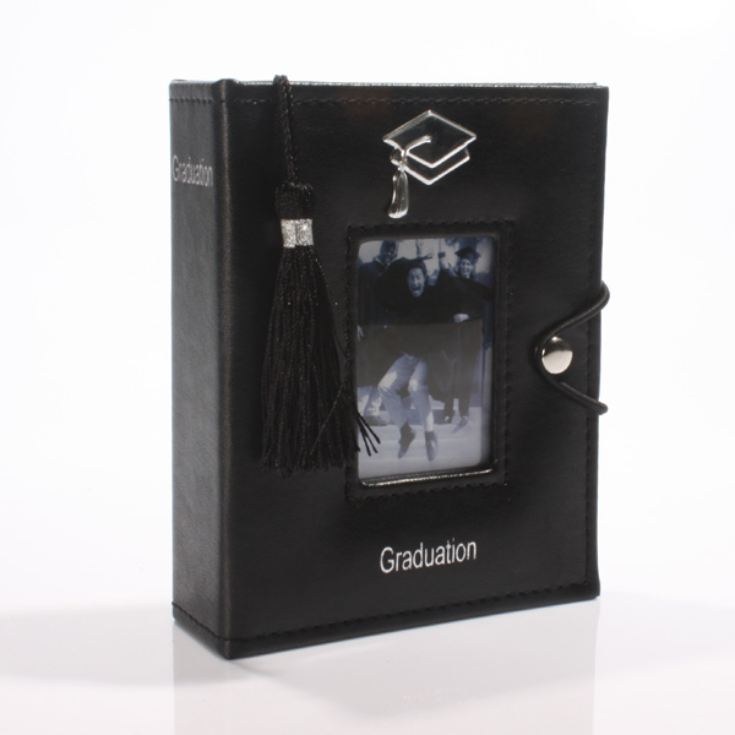 Compile all the photographs taken at the graduation ceremony in this special Graduation Photo Album. The cover is designed in black and includes a tassel to mimic a graduate's cap and features the word 'Graduation' embossed in silver across the cover and the spine. The album holds up to 60 photos and includes a small inset on the front where a photo of your graduate can be included. There is a raised silver cap and tassel motive adorning the front of the album and this will make a lovely commemorative present that captures the day.
2. For the graduate with an unquenchable thirst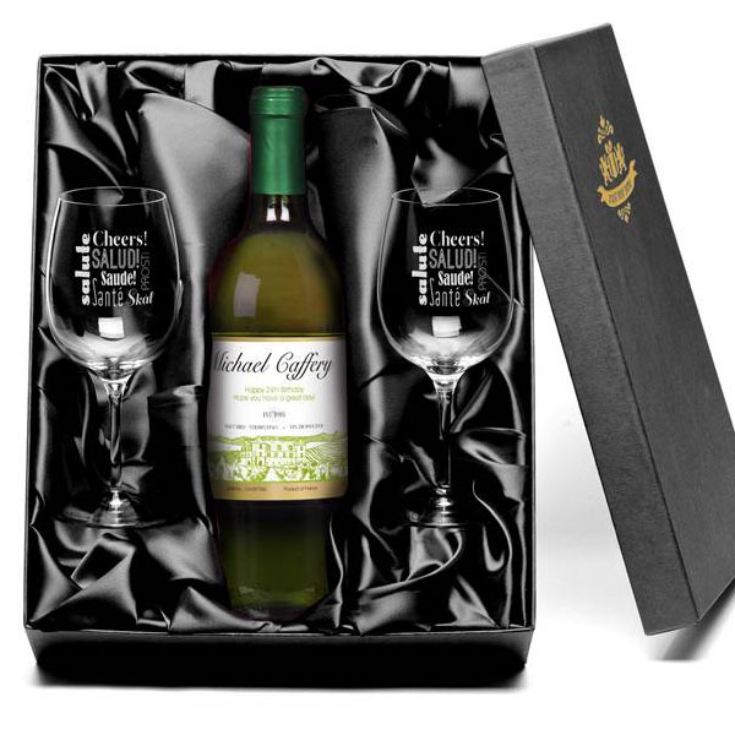 Now all the work is over, share a celebratory toast with your recent graduate with this White Wine and Glasses Set. Earning a degree is thirsty work, and your student will be ready to celebrate. This wine bottle can be printed with a name, date, and message before popping the cork and toasting the success of your loved one. Each glass comes with a 'Cheers!' design, and the entire set comes in a silk lined presentation box to add a classic touch. Raise a glass and enjoy this refreshing wine.
3. For the graduate with star quality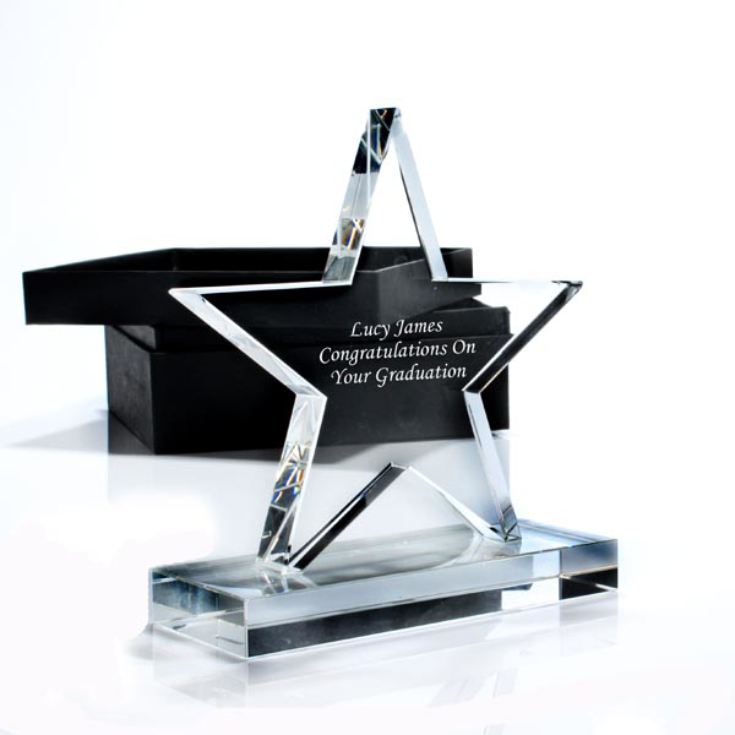 Show your recent graduate that you think they are a star! This engravable Crystal Star Ornament is a thoughtful and stylish gift that will look great displayed on any desk or bookcase and can be kept for years after the graduation event as a reminder of the day. This ornament comes in a black padded box, and the front of the star can be engraved with your own special graduation message. Give them a gift that they can keep and treasure for years.
4. For the graduate who wants to showcase their work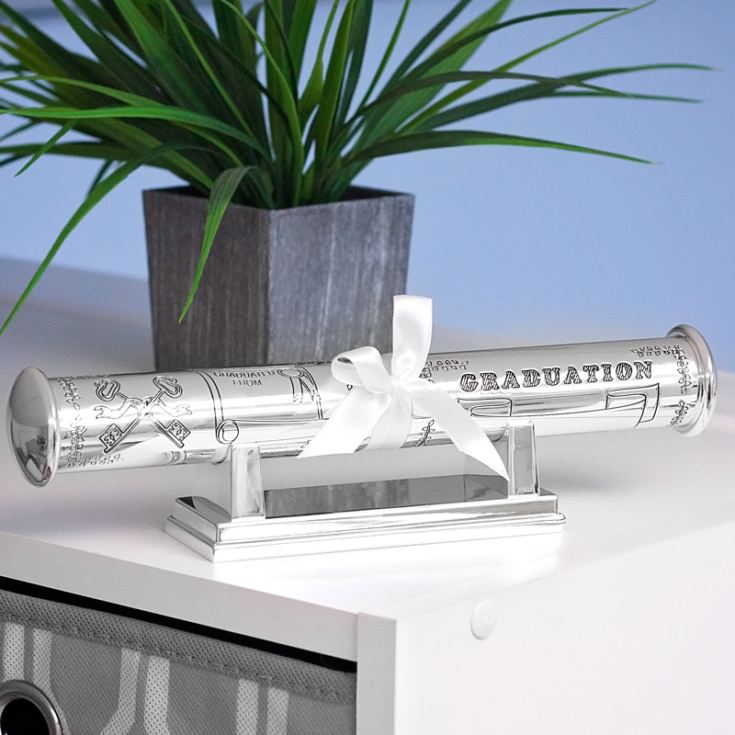 This gorgeously styled silver Graduation Certificate Holder provides the perfect place to store a degree certificate while keeping it safe and protected. The shiny outer casing features engraved designs and motifs and includes the word 'Graduation' stamped into the silver. Use this as a present that will honour your student's hard work and commitment to their education. The holder can be displayed anywhere with the silver-plated stand and it comes in a silk lined presentation box. The perfect gift to give right after the graduation ceremony.
5. For the graduate who wants to add personality to their suit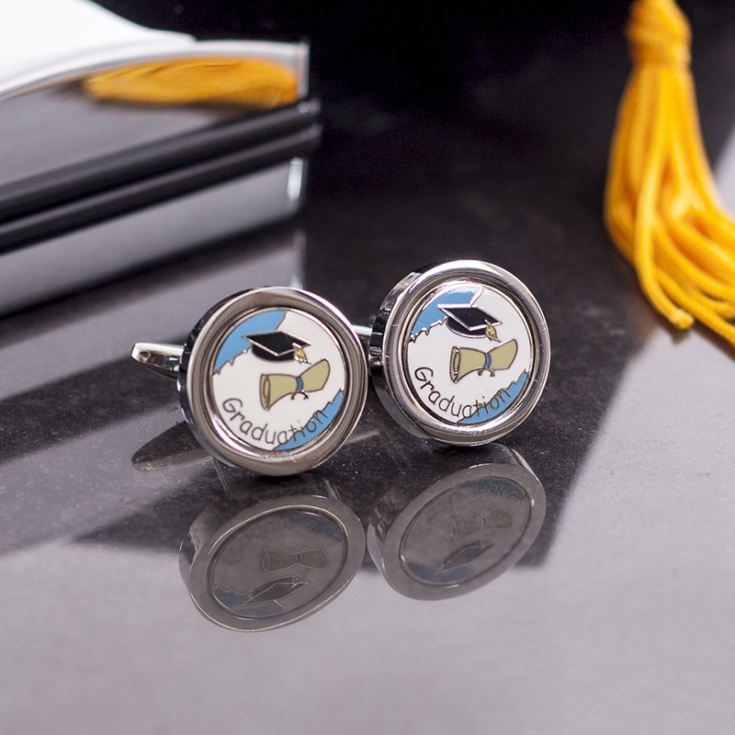 Add a touch of humour to their graduation event with these lighthearted and whimsical Graduation Cufflinks. These links can be worn with any shirt under a graduation gown and flashed to the ceremony audience while your graduate is accepting their diploma. These humorous cufflinks come in a presentation box that can be customised with a celebratory message. Make their special day even more special with this delightful gift.
6. For graduates that still want to write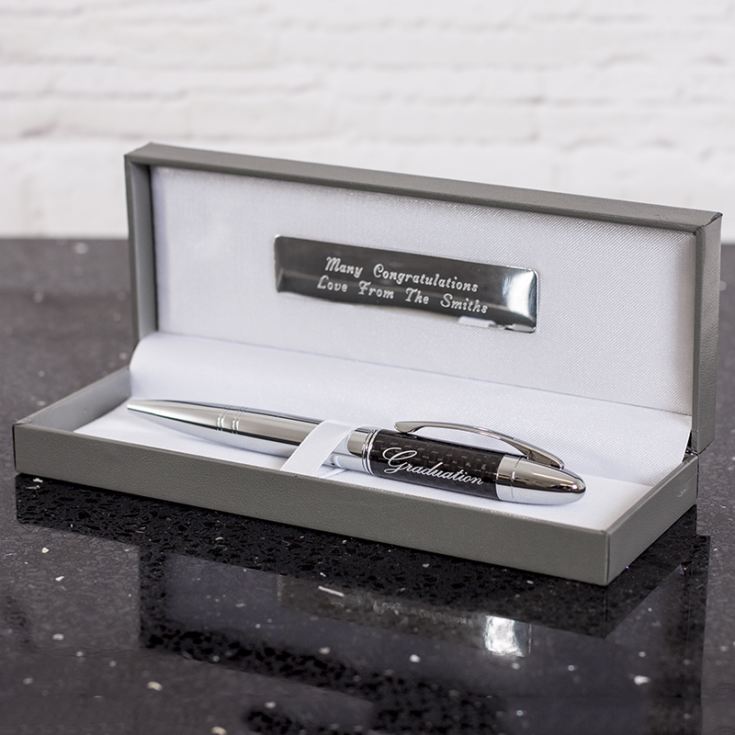 Receiving their degree is the stepping stone to beginning work in their chosen career. Provide a head start for your student with this black and silver Graduation Pen. Even though your recent graduate may not wish to write for a while after their recent studies, this stylish pen is a lovely memento that they can keep or use. Comes with the word 'Graduation' inscribed on the pen and the box contains a silver plaque that can be engraved with your special graduation message.
7. For the graduate who's a certified celebrity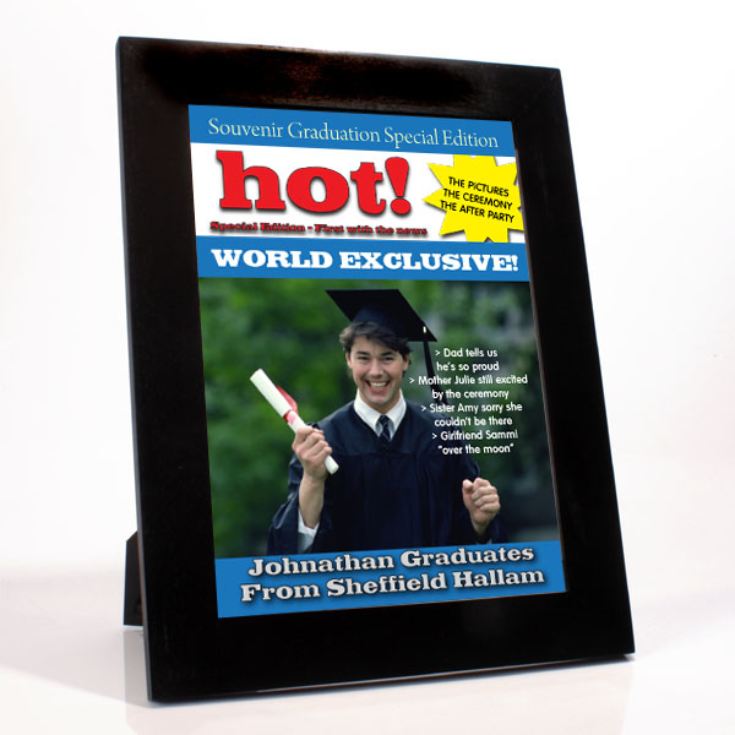 Help your son or brother feel like a celebrity superstar by featuring them on the front of a Graduation Magazine Cover. Include their photo on this colourful cover and add their university and date of graduation. Feature your own news stories and give him a reminder of his special occasion. The magazine is protected by a black frame that can also be customised with your special graduation message or date. This magazine is also available for your daughter, sister, or niece.
8. For the graduate who loves a good photo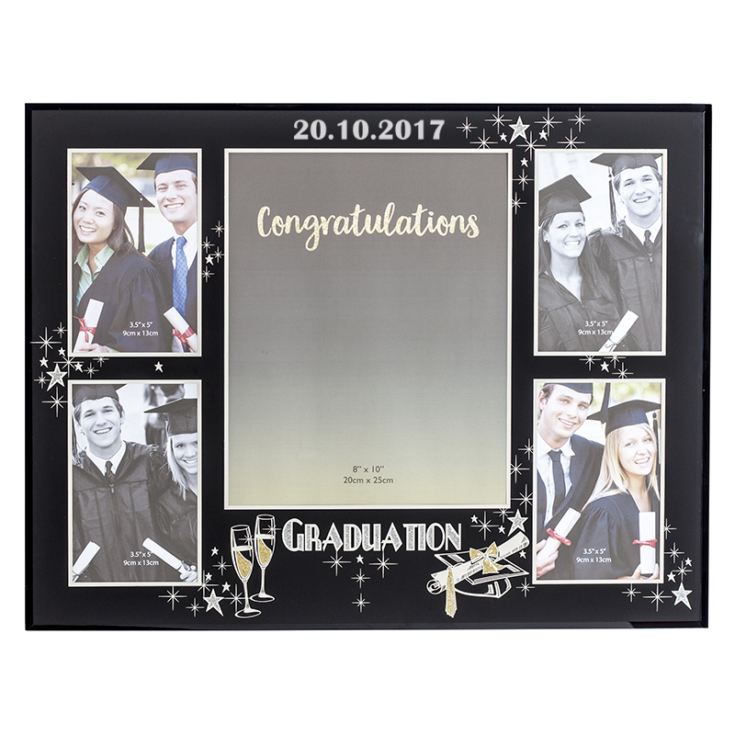 Capture candid photos from the special graduation day and display them in this Collage Photo Frame. Include pictures of your graduate accepting their diploma, making a speech, or take some celebratory shots of them with classmates. The frame can hold 5 photos and features the word 'Graduation' and the date to commemorate the special event. Your student will love this sentimental gift that can be displayed to remind them of their successful day.
9. For the graduate who has big business plans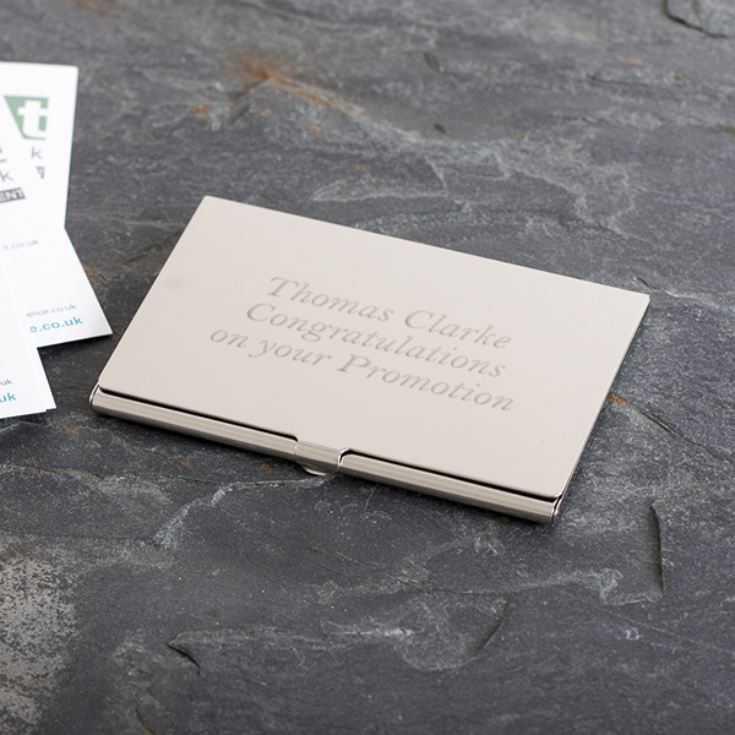 If your graduate is about to enter the world of big business then start them on their way by gifting them this lovely Silver Business Card Holder. This simple and professional-looking case can be engraved with a graduation message on the lid. Remind them of their success as they start their working life with a gift that can be used daily. Store business cards, notes, or keep credit cards in this stylish silver case.
10. For the graduate who wants to look their best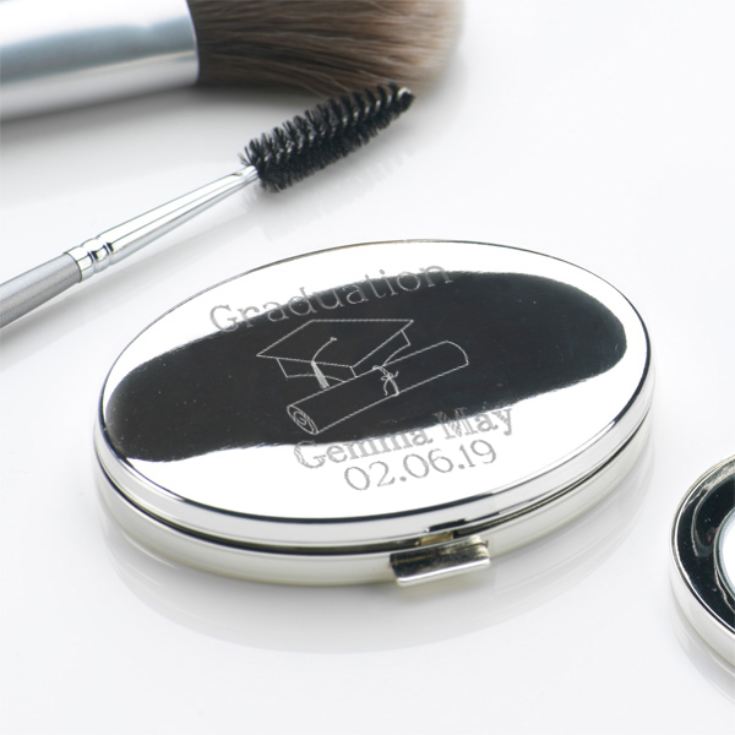 Give your graduation girl this lovely Silver Compact Mirror as a reminder of their college or university achievement. The perfect size to slip into a handbag or pocket and comes engraved with a hat and scroll design. The name of your graduate and the graduation date can also be added to make this a personal present. Comes in a protective black pouch to keep the compact safe and scratch-free.
No matter what gift you choose for your recent grad, make sure that it's something that can be personalised just for them to make it extra special. A custom printed or engraved gift is a great way to celebrate their graduation event and give them a present that will serve as a warm reminder of the occasion.