We've recently started creating a series of guides featuring our Top 10 Gifts for several occasions, including the Top 10 Anniversary Gifts for 2013.
A great anniversary gift needs to be a present for your loved one to cherish forever. Here you will discover our favourite, original and unique anniversary gifts.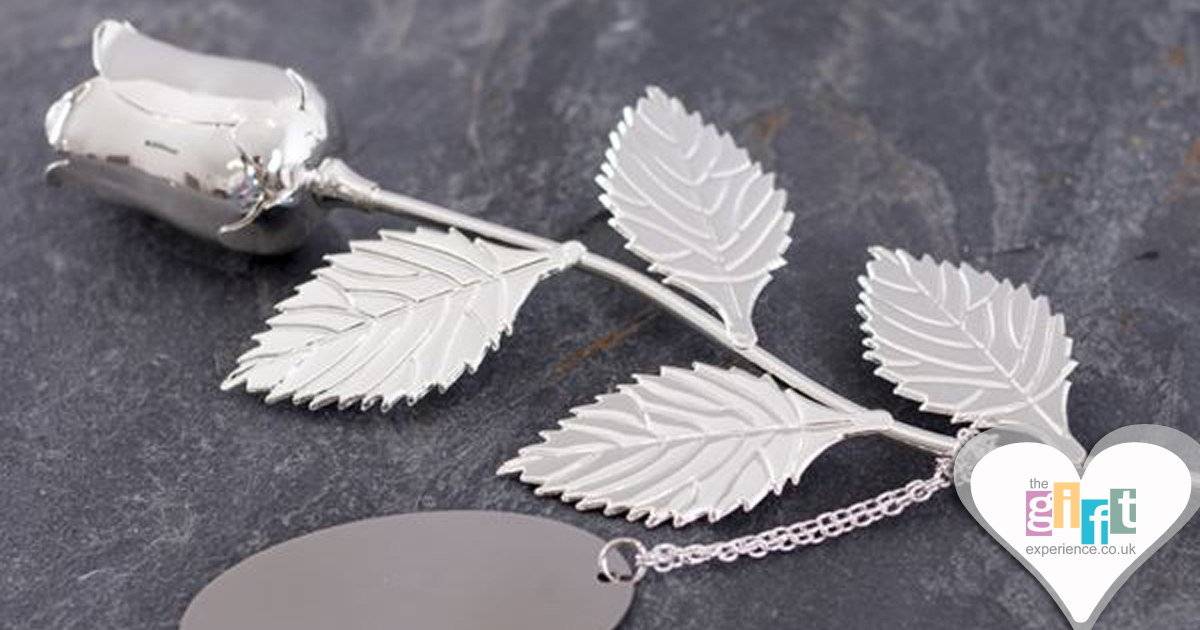 Here's our (personal favourite) Top 10 Anniversary Gifts for 2013:
10th. Engraved Mr & Mrs Photo Frame - £19.99

The perfect gift for a newlywed or anniversary couple, this Mr & Mrs silver plated photo frame is engraved with a personal message so makes a unique and personal gift.

The top section of the frame is engraved with the words Mr & Mrs in a large font above the photograph. Below the photo we engrave your personal message over 2 lines with a maximum of 25 characters available on each line.
9th. Personalised Anniversary Champagne - £44.99
Celebrate your years of blissful marriage with this brilliant Personalised Anniversary Champagne bottle. The champagne makes a great gift for a special toast but with your own personalised label, also makes a wonderful keepsake gift to remember that special day.
8th. Gift Boxed Original Newspaper - £44.99
Looking for a truly original gift? This original newspaper from the date of your choice has the wow factor you're looking for whether it's a birthday or anniversary gift.
This is not a copy. It's a quality national newspaper title from the day, presented in a beautiful gift box with a Personalised Certificate of Authenticity. You can write your own special dedication of up to 20 words to add to the certificate.
7th. Engraved Mantel Crystal Clock - £29.99

This stunning mantel clock is crafted from a single block of crystal glass which is wonderfully scalloped across the back to catch and disperse light in a beautiful way.

The front of the clock is flat and provides us with an area to engrave your chosen special message of up to 100 characters. A superb gift for a variety of occasions which can be displayed with pride on any mantel, shelf or desk.
6th. Personalised Silver Plated Rose - £29.99
This stunning and unique single rose stem could actually be taken for a real rose but for the fact that it is silver plated and will last a lifetime. It makes a wonderfully original gift for anyone you love and will certainly be something that can be treasured always.
It has a beautiful life like bud with four leaves and hanging from the stem is a pretty silver plated plaque that we will engrave with a short message of your choice.
5th. Antique Jewellery Box - £29.99
Watch her eyes light up when she sees this beautiful antique silver plated jewellery box.
The ornate design is beautifully crafted in sterling silver plate with a polished diamond-shaped area on the lid, ready to be engraved with your own special message.
Inside, the box is fully lined with black velvet and has a jewellery tray and ring section. A stunning gift that will delight all ages and take pride of place on the dressing table.
4th. Engraved Cut Crystal Anniversary Whisky Tumblers - £34.90
Looking for a gift with that special personal touch then try our popular Engraved Whisky Tumblers.
Each glass can be engraved with a different message of up to 3 lines of 20 characters including spaces.
All whisky lovers will appreciate their favourite tipple from these beautiful cut crystal tumblers and they will enjoy it even more as the glass has been personalised for them.
The Whisky Tumblers come in a lovely silk lined presentation box adding a touch of class to an already perfect gift.
We are sure that the recipients will remember these as a special anniversary gift given from who cares.
3rd. With This Ring Figurine - £35.95

One of the most special moments in a couple's life captured in this stunning figurine.

With This Ring captures the moment when the ring is placed upon the lady's hand and immortalises the moment in a lovely bronze effect statue.

The perfect gift for a newlywed couple, a couple celebrating and engagement or maybe just for a special anniversary. The figurine feature a man and a woman's hand as the man places the ring onto the woman's finger. It has a gorgeous bronze effect finish and would look stunning in any home.
2nd. Anniversary Presentation Folder - £99.99
A stunning gift set which includes three newspapers, one from the wedding day itself and one from each of the couples birthdays.
Your newspapers will be original and not photocopies or re-prints so some dates are limited. Your three newspapers will be presented in a dark blue hand finished chamois folder presentation folder which will preserve and protect your papers for years to come. The folder is embossed with the words "A Day To Remember."
1st. The First Dance - £110.00
The First Dance gift makes a unique and personal present for the bride and groom or a couple celebrating a special anniversary.

It's a unique & personalised replica gold disc to commemorate the wedding first dance or if there wasn't a first dance - their favourite all time song.
There are certain focal points in almost every wedding day, the service, cutting the cake, best mans speech and of course the First Dance by the bride and groom.
As the newlyweds take their first tentative steps on the dance floor as man and wife, the air is full of applause and camera flashes... then they hear the opening chords of their song, the song that is so special to them, the song that reflects the feelings they have for one and other.
They also make a great anniversary gift for a couple celebrating a very special anniversary, even if they didn't have a First Dance they are bound to have a favourite song which has been 'their' song since they met.
Our First Dance gold discs are presented on a platinum style disc and comes with a silver aluminium frame and a black background. They are a unique and lasting reminder of that very special moment in the couples life!
We hope one of our picks has proved to be the perfect gift. If you still haven't found your ideal gift just yet you can view our complete list of Anniversary Gifts, containing more than 500 potential presents.
You can even let us know what you think of any of our gifts, by providing a review after you've received any purchased items (we'll even give you 15% off a subsequent order for your trouble).
Finally, why not sign up to our regular newsletter below (where you'll receive regular offers, news and discount codes), and you can always follow us on Facebook, Twitter and Google+ to keep up-to-date with the very best from The Gift Experience.
Note: All prices listed are subject to change.

Save
Save
Save